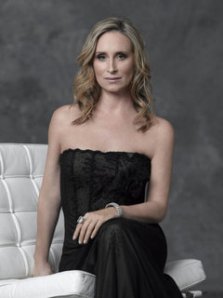 Sonja Morgan, Housewives of New York, Mad At Friends
The newest member of "Real Housewives of New York City" apparently was snubbed by her friends during an art auction, and it made for a bad first impression for Sonja Morgan on the new show.
According to the New York Daily News, Sonja Morgan held an art auction for the Chateau de Blerancourt museum at her upper East Side townhouse Wednesday night, but Bethenny Frankel and Alex McCord seemed less than interested in the proceedings.
While an auctioneer attempted to sell the art, the two – along with McCord's hubby, Simon Van Kempen – chatted in the next room. An annoyed Morgan soon retrieved her "friends," who still refused to make any purchases.
Sonja Morgan had this to say about the incident, "I knew they weren't going to buy anything," she dished later at the Cipriani-hosted fete. "I had never watched the show before I joined. If I had, I probably wouldn't be on it."
And Sonja Morgan has also had legal trouble in New York as well.
Apparently Sonja Morgan was sued for not keeping up her end of the bargain in a movie deal with a Hollywood production company.