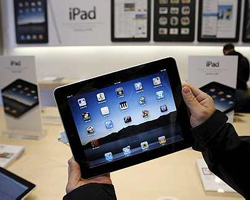 iPad 3G Release Date No Later Than May 3rd
My neighbor went into a local Apple store here in the metro Atlanta area to pre-ordered the iPad 3G.
While there, he thought of me (he knows what I do for a living and what kind of blog I have), so he decided to inquire about when the iPad 3G is expected to be released – or, he said he put it in terms of when could he expect to get the call from the store that the iPad 3G's are now here and he can come pick his up.
What the Apple store said about iPad 3G release date:
The guy at the Apple store told my neighbor that he wouldn't be surprised if the iPad 3G is available this up coming week.
So that would be sometime between Monday, April 19th – Friday, April 23rd.
But then the Apple store employee told my neighbor that the iPad 3G will be in their store, at the absolute latest, by Monday, May 3rd.
So no later than Monday, May 3rd will be the iPad 3G release date!