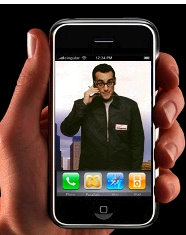 Verizon iPhone – AT&T Blocks Employee Vacations for June
More evidence that the Verizon iPhone is coming in June.
AT&T has blocked all employees from taking vacation in June, according to BoyGeniusReport.com.
"Same story as last year and the year before, but we've confirmed with multiple AT&T sources that the carrier has now put a block on employees taking vacations in June. The only time AT&T does a straight block like this is for iPhone launches. What's interesting is, if AT&T is blocking June, perhaps the iPhone will launch a little earlier than July this year."
I'm predicting that the Verizon iPhone will be announced on June 22, at an Apple conference in San Francisco.