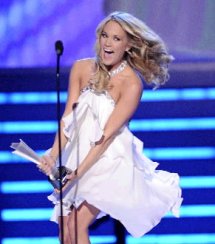 Carrie Underwood's Cell Phone Buzzes During ACM
Last night during the 2010 ACM Awards 2010 ceremony, a most embarrassing thing happened, that few people may have even noticed.
First, Carrie Underwood made history at the Academy of Country Music Awards on Sunday night, becoming the first woman to win entertainer of the year twice.
Next, however, was that during her "thank you" speech, Carrie Underwood's cell phone went off – actually, as Carrie Underwood puts it "my cell phone is buzzing".