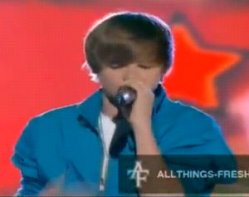 Justin Bieber Loses Out At Juno Awards
Watch Justin Bieber video below
There is no question about who is the current hot pop star on the planet right now. His name is Justin Bieber, and people are literally going crazy trying to see him and meet him.
Justin Bieber has had 7 songs from his debut album on the Billboard Hot 100 chart, but he has reached the top thirty charts in over 10 countries.
People are crazy for Justin Bieber, and he's only 16 years old!
But Justin Bieber loses out at The Juno Awards
Examiner reports that Bieber was nominated for "Album of the Year," "Pop Album of the Year," and "New Artist of the Year," but he failed to take home the award in any of the categories.
Wow – how is that even possible?
How can Justin Bieber be the most popular, most in demand pop star on the planet and walk away from The Juno Awards without a single award?
I don't get that at all…
He did a live performance during the show with rapper Drake who ended up stealing the award from Bieber for "New Artist of the Year."
Here is Justin Bieber's performance at The Juno Awards: