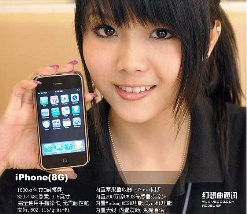 iPhone Sales in China Are Booming Despite Black Market
Get live stock price updates on Apple at Google Finance > (NASDAQ:AAPL)
Before the iPhone "officially" hit the China market, there was already a booming iPhone market taking well underway.
The iPhone black market in China has always been booming, practically from day one the iPhone debut. The problem has been, however, that the Chinese government refused entry of the iPhone into the China market place.
No problem with that decision however, because the iPhone black market in China has been exploding.
The legitimate iPhone market is now exploding as well
Apparently there are a lot of people in China that are wanting to live ethically when it comes to doing business. And because of that conviction, the benefactor has clearly been Apple (NASDAQ:AAPL).
As was reported in Apple's earnings yesterday, 8.752 million iPhones Apple sold in Q2 2010 beat Wall Street's estimates by 25% to 30% — or nearly 2 million phones.
Where did those sales come from? A big chunk of them, it seems, came from China, according to CNN Money.  Listen to this exchange between Barclay's Ben Reitzes and Apple COO Tim Cook during Tuesday's earnings call with analysts:
Reitzes:
Did China meet your expectations?
Cook:
China has been interesting. If you look at greater China which we define as mainland China, Hong Kong and Taiwan, the iPhone units were up year-over-year over 9 times. We added another 800 points of distribution in China. The revenue, we have never released this number before but I will do this in this particular case, through the first half of the fiscal year that we just completed for the six month period our revenue from greater China was almost $1.3 billion and this is up over 200% year-over-year. So we are well pleased with how the company is positioned to take advantage of the growth in greater China. (Transcript: Seeking Alpha)