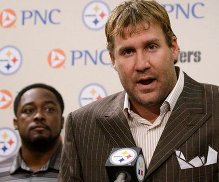 Ben Roethlisberger Suspended 4 – 6 Games for Rape
Doesn't the title of this article sound ridiculous?
Since when, in our justice system, does somebody get away with rape and most importantly, a professional football who's only penalty is to sit out 4 – 6 games during the regular season.
Don't think Ben Roethlisberger raped that girl?
Have you read the victims police report?
The medical exam after the alleged assault did not provide definitive proof of rape. However, the medical exam did reveal a "cut, bruises and vaginal bleeding," reports ESPN. Some DNA evidence was seen, but the quantity of it was insufficient to determine who it belonged to.
The statements from the victim's friend, Nicole Biancofiore, are also proof enough that Ben Roethlisberger committed a crime that night in Milledgeville.
Nicole Biancofiore stated that "(the alleged victim) was dragged by a bodyguard to the back room in Capital. She was extremely intoxicated and not aware of what was happening."
This situation is disgraceful not only to Ben Roethlisberger, but to the entire NFL organization. And worst yet, only suspending Ben Roethlisberger 4 – 6 games for this crime is even more despicable.
Really, 4 – 6 game suspension for raping a woman…. wow!