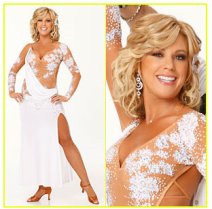 Kate Gosselin Eliminated from Dancing With The Stars, April 20
As Dancing with the Stars progresses to another week, that means that another contestant has to be eliminated. This week the unfortunate dancer was none other than Kate Gosselin.
Kate Gosselin is the mother of 8 children who's marriage with Joe Gosselin has also made its way onto the big TV screen with their own reality show.
Joe Gosselin has recently filed suit to get sole custody of all 8 children from Kate Gosselin.
Regarding Kate Gosselin being voted off Dancing with the Stars, Kate Gosselin told TV viewers: "Well, you know, it is what it is." But some viewers got a bit tired of the old "she's a mom" excuse as to why she can't dance. Others were just tired of Gosselin overall.
"My gut feelings are always right, and it's OK. I had the opportunity; I'm very, very honored to have been here. I love everyone that I met. It was a great experience, and I'm sorry I'm crying. I'm a crybaby!"
But some wished she stayed. Dovolani said of the decision:
"I'm very proud of Kate, because I know she gets a lot of criticism out there and it is difficult — especially knowing my wife is watching with three kids — [Kate] has eight kids, and she's a single mom, so I give her all the credit in the world for showing up.
"As exhausted as she was, she still showed up every day. As a teacher, I'm very proud of you, because I thought you danced beautifully. You showed America that it doesn't matter how much things go against you, you still come out here and give it your best."
Oh well, you can almost guarantee that we'll see Kate Gosselin on some reality TV series coming up.
Recently, Kate Gosselin was turned down by Playboy for a photo shoot.