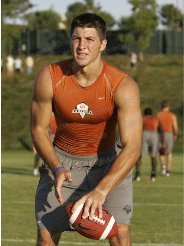 Tim Tebow Will Not Attend NFL Draft
Say what you will about Tim Tebow, but one thing you can't say is that he seems to always have his priorities in place.
News reports are coming out stating that Tim Tebow has decided against attending the NFL draft ceremony at Radio City Music Hall.
What's his reason for not attending you ask?
According to FoxSports.com, Tim Tebow had this to say about his decision on not attending the NFL draft this year, "… I thought it was best to be home with my friends and family. It's not just an award for me being drafted. It's for all the people who invested in me during my life. I want to be able to celebrate with those people."
Wow… can someone get me a kleenex?
Seriously though, obviously Tim Tebow places a higher priority on being with family and friends then he does shaking Roger Goodel's hand and holding up a jersey.
Way to go Tim…