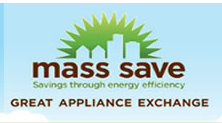 Mass Save Rebates Crashes MassSave.com/Residential
Earlier today, that state of Massachusetts launched their Mass Save Rebates program that offered rebates and discounts on trading in your old, energy-inefficient appliances in replace of more "greener" energy efficient ones.
When Mass Save Rebates launched, the site was originally set for www.masssave.com/residential – however, if you go there now, this is all you get:

Which basically means the original Mass Saves Rebate site crashed due to the amount of traffic it received.
Basically, what this means is the State of Massachusetts failed to plan properly with server allocation and bandwidth. They launched their Mass Save Rebates program, masses of people flooded the website, and the website crashed – period!
The problem with the Mass Save Rebates website crashing is that once it's down, no one else can take advantage of the appliance rebate.
So Massachusetts launched into action and created a new Mass Saves Rebate website so that people weren't left out of the program.
Here's the new Mass Saves Rebate program website:
I just visited this site, and as of this article writing, the site is 100% up and functional.
The MassSave appliance rebate plan offers $6.6 million in federal stimulus money for the first come-first served rebates.
Massachusetts residents can get up to $250 for dishwashers, $200 for refrigerators, $175 for clothes washers and $50 for freezers. Consumers must get a reservation number for the rebates.