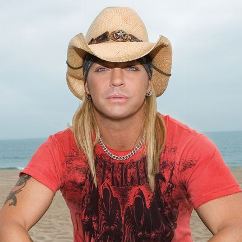 Bret Michaels Condition Update – BretMichaels.com
Bret Michaels Facebook Fan Page has made another update today regarding the condition of Bret Michaels. And this time, they referenced a website for people to visit for updates. The website BretMichaels.com was referenced, but when I went there, the site was down.
This was perhaps caused by a huge increase in traffic, and the fact that the website's server may not have sufficient bandwidth to handle to traffic spike.
Here is what the Bret Michaels condition update contained:
Once again we can't thank everyone enough for all the well wishes and prayers being sent Bret's way!
As of now Bret remains in ICU under 24 hour surveillance. Further testing this week will help locate the source of the bleeding.
Look for an official medical report from doctors this week at BretMichaels.com.
Please remember Bret is, and always has been, a fighter and survivor and is under the best medical care possible.
Thank you for your support, thoughts & concern!
So Bret Michaels is under continuous 24 hour surveillance and basically fighting for his life in the hospital.
Our thoughts and prayers are with him and his family.
Additionally, to receive updates you can follow him on:
Facebook
and now his website @ https://www.bretmichaels.com/