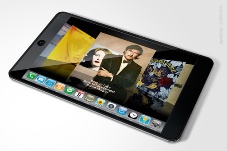 iPad 3G Should Arrive This Week
Well, this is the week we've all been waiting for right? According to Apple, those people who pre-ordered their iPad 3G should be receiving their device by, as Apple puts it, late April.
Defining Late April
The way I see it, the last day in April is Friday, April 30th, and you can't really get much later in April than that. And according to Apple's own iPad 3G news release, those people who have pre-ordered the iPad 3G, they will be shipped out by April 30th.
If you didn't pre-oder the iPad 3G
In that same news release, Apple stated that the Apple retail stores will also have the iPad 3G's in their stores, ready to be purchased, after 5pm on Friday. So even if you didn't pre-order, you can go ahead and show up at an Apple retail store after 5pm Friday and you should be able to pick up an iPad 3G.
Of course, supplies will be very limited, so you might want to show up early if you want to guarantee yourself an iPad 3G.
If you are are interested in getting the iPad 3G, but want more information on pricing, then read my iPad 3G pricing and data sheet.
That will give you all of the key figures for what it will cost to own an iPad 3G.