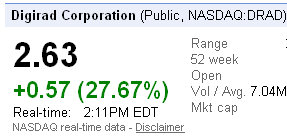 NASDAQ:DRAD – Digirad Corporation Stock News Update
Shares DRAD (Diggirad Corporation) are currently up nearly 30% on news that broke Monday about marketing approval from the FDA for their new nuclear medicine camera called Ergo.
Digirad Corp. (NASDAQ:DRAD ), a provider of cardiovascular imaging services and solid-state nuclear medicine imaging products to physician offices, hospitals and other medical services, announced that it has received clearance from the Food and Drug Administration (FDA) to begin marketing its general imaging nuclear medicine camera, Ergo.
Ergo, approved under 510(k) process, has a large field-of-view of 12.25 inch by 15.5 inch. Digirad plans to ship its first production systems beginning in June of this year to a number of leading medical centers in the U.S. and abroad.
According to the company, Ergo makes it possible to "image without boundaries" for a diverse range of procedures to be performed in the nuclear department and other research areas.
The company is scheduled to release its first-quarter financial results on April 29. For 2010, the company has set a target of achieving positive earnings and generating positive cash flow in excess of $2 million. In 2009, the company earned $0.6 million or $0.03 per share on revenue of $69.6 million.
DRAD has been climbing to the top of many "top picks of the day" charts through stock tracking websites.
DRAD (Digirad Corp) is currently trading at $2.63, +0.57 (27.67%).