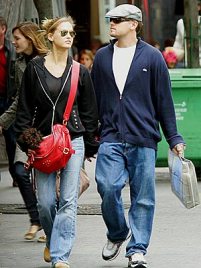 Leonardo DiCaprio Girlfriend, DiCaprio and Bar Refaeli Marriage?
Rumors are spreading on the web about Leonardo DeCaprio and his girlfriend Bar Rafaeli getting married. These rumors were spawned from a simple siting of the two at a Los Angeles Lakers basketball game.
However, when Bar Rafaeli has been questioned about the marriage rumors with Leonardo DeCaprio she has responded with absolutely not.
Bar recently denied the marriage rumors and her ring finger was bare at the game, so we're not sure what the big deal is.
Bar told the press, "I'm 24 and there's still time [for marriage]. I'm in no hurry. I'm happy with where I am."
To be quite honest, I didn't even know that Leonardo DiCaprio even had a girlfriend, let alone there were rumors about them getting married. I mean really… who has the time to worry about such things as Leonardo DiCaprio and girlfriend getting married rumors!
Apparently I have enough time to write about it… :-)