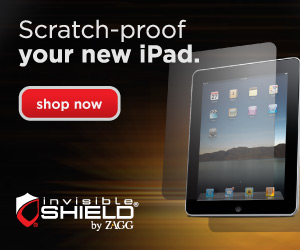 iPad 3G News: FedEx Tracking Numbers Sent To iPad 3G Customers
The wait is nearly over for those who pre-ordered their beloved iPad Wi-Fi + 3G. Readers here at Social Media SEO are reporting that they are now receiving their tracking numbers from FedEx so they can track the delivery, location, and logistics of their iPad 3G's!
iPad 3G / FedEx Shipping
Some comments we received today from iPad 3G customers:
mine is shipping today.. to be arriving before 3pm tomorrow via Fedex. Im tracking it on fedex and my touch fedex app.
—
Finally! A tracking # FedEx by pm tomorrow!!!!
—
Me being struck by lightning (no joke) 4 years back really gets me ready to have a ipad
—
Finally got my FedEx tracking # for arriving by 10:30am and got a free wireless keyboard and belkin grip vue cover since Apple messed up and cancelled my order a couple of weeks ago due to a glitch in there system thinking that if more than 2 ipad's are ordered for an apartment building (with same address but different apartment #'s)! Thanks Apple for taking care of me!
iPad 3G and Apple retail stores
Obviously, iPad 3G customers are super excited about tomorrow. But there are also people saying that they won't be receiving their iPad 3G tomorrow because of various logistical issues with their order.
My neighbor actually pre-ordered his iPad 3G through a local Apple retailer and said that he was promised to receive a call tomorrow (Friday) from the Apple store when his iPad 3G arrived.
What's interesting, however, is the Apple retail stores are not expecting long lines to wrap around the block of people waiting to buy an iPad 3G. As reported earlier, Apple announced that iPad 3G's will be available in Apple retail stores after 5pm on Friday.

According to my neighbor, the Apple employee said the store (and Apple as a whole) expects the customer traffic to be heavy, but certainly not to the degree that was experienced upon the release of the iPad Wi-Fi version.
And you want to know what the reason was for Apple not to be expecting long lines?  Because they (Apple) have plenty of inventory!
Now why is it that Apple is able to supply the stores here in the US with plenty of iPad 3G's, but they can't supply international stores, causing a lot of unhappy customers?
iPad 3G Data Pricing from AT&T
I have previously covered the iPad 3G data plan and pricing that is being offered by AT&T. This information has been made available from Apple for several months now.
However, today AT&T took the steps to "officially" release the iPad 3G data plan pricing – I guess just so they could say they did it.
But AT&T didn't reveal anything new – the iPad 3G data plan pricing they released is the exact same pricing I've been covering for well over a month now.
iPad 3G data plan price & cost:
$29.99 – unlimited 3G data plan
$14.99 – per month, 250 mb/month data plan
When you start approaching your 250 mb/month quota, you get a warning when you have 20% of your data left, 10% of your data left, and when you're out of data. When you run out of the 250Mb, you are given the option to add an additional 250Mb or switch to the unlimited plan.
According to Steve Jobs, the 250 mb/month data plan for the iPad will be sufficient for most users.
As I know from owning an iPhone 3GS, the ability to have a device that runs both Wi-Fi and 3G is VERY convenient indeed. As long as you have your Wi-Fi enabled (turned on), then whenever you are in a hot spot and the network is unsecured, your iPad will simply pick it up and connect.
And then, whenever you are outside of that hot spot, or the network is secured, your 3G will automatically kick in to deliver the data – all without you having to do anyting.
So I find Wi-Fi + 3G to be a very convenient combination when it comes to connecting to the web on my iPhone, and I can only imagine how much cooler it will be with the iPad 3G!
Tell us about your iPad 3G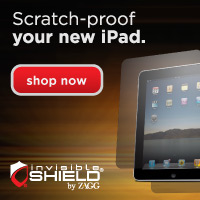 So if you are one of those who have received your FedEx tracking number, or UPS tracking number, for your iPad 3G – or, if you are reading this and you've already received your iPad 3G – definitely leave your comments below and let us know what you think.
Tell us who ended up shipping your iPad 3G – was it FedEx or UPS?
Did you receive any cool free gadgets with your iPad 3G like a free wireless keyboard?
Finally, once you test out the 3G speed, let us know what you think of the performance of 3G on the iPad.