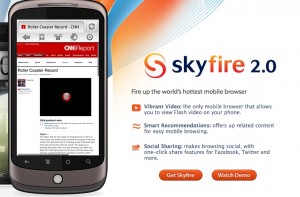 For those of you who may not have heard of  Skyfire, is a company that makes a mobile web browser under the same name for Android, Windows Mobile & Symbian/Nokia.
The Skyfire mobile web browser uses cloud computing for mobile devices in order to process video & rich media websites. The company has just announced today Skyfire 2.0 beta for Android with quite a few new features one of them being support for Flash web video content.
Another new feature of the web browser is called "SkyBar" which has three icons Video, Explore & Sharing. The video icon allows users to view Flash videos from the web that normally wouldn't play on other mobile web browsers. The Explore icon, which shows the most recent content, viewed.  The Sharing icon allows the user to share articles & video through Facebook, Twitter, E-Mail, and SMS & WordPress. Skyfire 2.0 also supports pinch-to-zoom on Android 2.0 devices. Skyfire 2.0 also features multi-tab browsing which allows the user to open up to eight windows and simultaneously browser the web.
In my experience using Skyfire 2.0 beta it seems to run very well on the HTC Dream/T-Mobile G1.  Web Pages seems to render fairly quickly and the browser doesn't seem to drain the battery as quickly as the stock web browser for Android. So if you own an Android handset I would recommend Skyfire 2.0 over the Android web browser.
Source: Skyfire
Josh Uhlemeyer
Former Author of Mobile News Now.