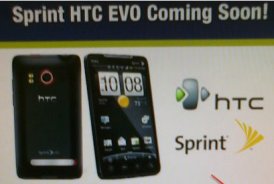 4G Android Phone Leaked, HTC EVO 4G To Be Sold By Sprint
HTC EVO Android phone release date:
The information came from a leaked Radio Shack advertisement for the HTC EVO which states that pre-orders for the Android powered HTC EVO will be allowed by the end of the month (today is May 6th).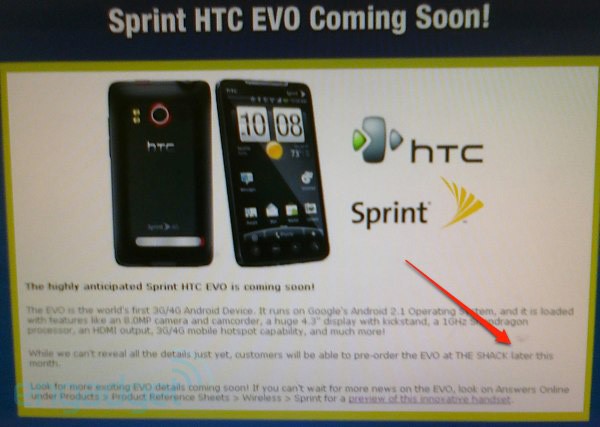 HTC EVO Android Phone specs:
4.3-inch, 800×480 TFT touchscreen (current iPhone 3GS is 3.5 inch 320×480)
1 GHz Qualcomm Snapdragon processor
Dual 3G/4G WiMAX connectivity
MicroSD card slot (up to 32GB), USB
Forward-facing 1.3 megapixel camera
Rear-facing 8 megapixel camera with auto-focus and 720p HD video recording
HDMI out
Built-in mobile hotspot functionality for up to 8 devices
Custom web browser with Flash support
4G Android Phone
One of the more exciting features of the upcoming Android powered HTC EVO is that is will carry 4G WiMAX connectivity for surfing the web from your phone.
4G is the next big thing in mobile internet connectivity. Apple is widely expected to announce a 4G iPhone on June 7th at their WWDC2010 conference.
However, that's on June 7th, and as you can see there are 4G phones powered by Android that are beating Apple to the market place.
According to the leaked ad, the 4G HTC EVO will be sold by Sprint via Radio Shack…? Am I reading that right?
What do you think?
So what do you think about the HTV EVO?
I know that I'm super excited about 4G speed and also the combination of 4G on an Android powered phone – should be exciting!