British Election 2010 Results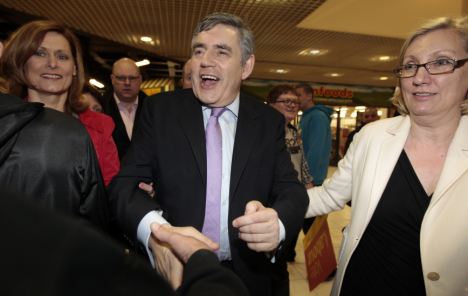 The Conservatives are on course to be the largest party in a hung parliament, after nearly 400 election results.
Cameron's Conservatives were forecast to have won 305 seats in the 650-seat House of Commons, the national exit poll showed. Labour was forecast to take 255 and Nick Clegg's Liberal Democrats 61, the poll showed.
Tory leader David Cameron said it was 'clear that the Labour government has lost its mandate to govern'. The Lib Dem vote was up 0.9% on 2005 and Labour down 6.4% after 399 results. The Conservatives are up 3.9%.
The Conservatives are being projected to be 21 seats short of a majority. They need 326 to win.
Although Labour are set to lose over 90 MPs, Gordon Brown said he wanted to play a part in the UK "having a strong, stable and principled government".
Downing Street says the Labour leader, re-elected in Kirkcaldy and Cowdenbeath, will try to form a coalition in the event of a hung Parliament. But shadow foreign secretary William Hague says any attempt by Brown at securing a pact with Lib Dems "would be a shameless piece of politics".
And the electoral maths suggests that between them there would not be enough Labour and Lib Dem MPs to form a majority government.
Election Day winds to a close in the United Kingdom and the counting process is underway. Exit polls suggest the Conservatives party is expected to win 307 seats although 21 short of a majority amid anger as queuing voters are turned away from polling stations.
The exit poll also suggests the UK is on course for a hung parliament. The exit poll has been prepared by interviewing people at different polling stations. Conservative party is expected to bag 307 seats while incumbent Premier Gordon Brown's party Labour is expected to win 255 seats.
Nick Clegg's of Liberal Democrats is expected to have 59 seats, and the shadowy Others Party with 29.
Source provided by A Pakistan News