General Electric AGBS300PJ Gas Range.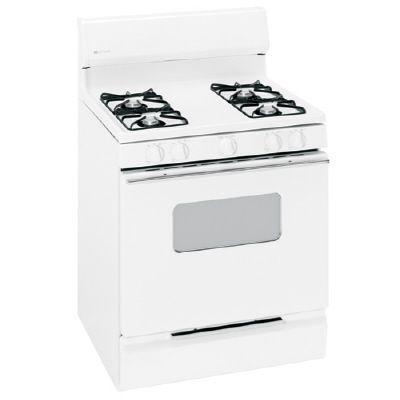 If there's one thing that I know, and I should after 30 plus years in the business, is appliances – commercial and domestic.  From time to time I will be reviewing some of the new units coming out on the market.  Included in my reviews will be reactions from those who already own them.
Since we are living in a time where every penny spent needs to be "well spent"  I feel that finding the right match in you and your appliance is something that is worth talking about.
Today, we are going to look at a gas range from the folks at GE (General Electric).  It is a relatively low cost unit, but don't mistake the ticket price for something that doesn't deliver.   GE is one of the largest manufacturers of major appliances in the world, producing Monogram, GE Profile Performance, GE Profile, GE and Hotpoint brands as well as several private-label brands.  (An important tidbit of information because GE's are also reasonably priced and easy to find parts – and there are many generic parts available at even lower prices.)
The General Electric AGBS300PJ Gas Range has a capacity of 4.8 cu. ft.  It is a 30 inch range with 4 burners.  The dimensions are 26.5 inches deep, and 44 inches high.   One of the best prices that we found for this unit was at the Home Depot where it averages about $349 dollars.  (Take the model number to Lowe's and compare prices.  You may save even more because Lowe's, as some other stores, will match and then take off another 10 percent)
Out of 17 folks who reviewed this unit, 13 gave it a 5 star rating.  1 gave it a 4 star rating, and 3 gave it a 3 star rating.
"This is an awesome stove! I LOVE IT. During power outages we can still use this oven, there is no electric required. This is a gas pilot ignition range. I am a baker with 4 kids and need my oven to work with or without electric. Burners come on instantly, and the oven heats up quickly. As soon as it was hooked up I made pizza and the oven worked great ! I would definitely recommend this range."
"I bake alot. Love this stove. Can get lots of pans in large oven. Have had this stove for a year now.
Easy to clean. No bells and whistles to run the price up.
Totally LP gas (Also comes set up for natural gas – Mike). Very economical to cook on, canning, baking etc. Thank you!"
"GOOD QUALITY FOR THE PRICE. LOOKS GOOD AND OPERATES GOOD."
"This little stove does the job. It's basic in design, which is what I was looking for. No frills, but works great. I've had it for six months and there had been no problems. Great range for the price if you aren't looking for bells and whistles." (By the way, "bells and whistles" just mean more to break, and more to pay for when broken.  "Bells and Whistles" are not added to ranges to make them cook any better than without them.  Manufacturers include them in their designs only because they sell.  If you want gadgets and doodads on your range, put a radio on it – Mike)
The only complaint that I could find, other than the lack of "bells and whistles" was problems that arose with the ignition system.  By the way, those sort of problems are generally brought about by improper cleaning (failure to do so) of the units.  Orifices are very small, and the slightest grease can block them.
Also, any range using electronic ignition will have problems when grease or corrosion builds up on pilot or ignition surfaces and sensors, Sooooo, don't let the pizzas pour over onto the bottom.
Sure, I like GE.  When I was working in domestic (household) appliances I was an authorized GE service center, but this unit has come out since that time so I review it without prejudice.