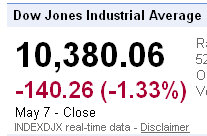 Wall Street – DOW Closes Down Triple Digits For The Week (INDEXDJX:.DJI)
DJIA Closes at 10,380.06, -140.26 (-1.33%) for the week
No sooner did President Barack Obama finish his speech about how he is directly responsible for the strong jobs numbers did the stock market begin it's rebound from yesterday's dramatic fall from grace.  Even though yesterday we saw a drop on Wall Street, so sudden and dramatic, unlike anything that has possibly been seen before in history – the stock market has actually found a way to only end down currently 166 points or less than 2% for the week.
To experience what happened yesterday in the stock market, and for the Dow Jones Industrial Averages to finish the week out less than 2% is something that I would call pretty good – and perhaps even "dodging a bullet" would be more appropriate.
Right now the DJIA (INDEXDJX:.DJI) is trading at 10,354.21 – this is sharply lower than the recent high of when the DOW hit 11,000. However, it is up from earlier today when the markets first opened. And even though there was improving US job market forecasts and payrolls expanded by 290,000 in the month of April – which is the best month since March 2006 – the market still looks like it will end up closing down for the week in triple digits.