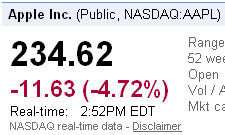 NASDAQ:AAPL – Apple Shares Continue Crash, Stock Down Another 4%
Taking a glance at Apple stock prices (NASDAQ:AAPL) today and again I see the shares crashing from their all time highs just a week ago.  The NASDAQ is continuing its downward spiral, and in turn bringing Apple shares with it as the tech sector leads the downward march of the stock market today.
So what's causing Apple shares to continue to decline even amidst booming iPad sales and outlooks?
One one hand, the Apple stock dropped alongside the NASDAQ market.  They are pretty much in line with the market in general, meaning they are staying stable, according to Pradeep Kolla.
In addition Apple has everything going on for it.  They have a strong position, great market share, consumers can't get enough of their products. They are innovative, trailblazers, and their iPhone continues to grow in popularity. Heck – they even sold 1 million iPads in less than a month for anywhere between $499 and $829 a whack (not to mention the 1.5 million eBooks that were sold from their app store because of the new purchases.)
On the other hand, many people like to proceed with caution when dealing with tech stock.  People are fickle and if another company pops up and starts to deliver the desired products instead of Apple, people could flock to the new company and you will see a decline.
Yesterday's market plunge has brought volatility back into the market. But quality stocks seem to have recovered some perceived value levels. For Apple Inc. shares, many institutional investors and growth fund managers will be looking to accumulate the stock between $220 and $240 because if AAPL earns $12 per share (EPS) this year (the consensus estimate is for $13 EPS), a price of $230 would give it a sub-20 forward P/E multiple.
According to ONN.tv writers, they are looking at selling this relatively high May implied volatility of 45% and getting paid for the risk of being bullish on AAPL with 14 days until May options expiration. A momentum sell-off this morning that sends AAPL below $240 could make this bull put spread trade for much more than $2.50, so timing the trade well could pay off even more.
Resources:
ONN.tv
CNMNewsNetwork.com