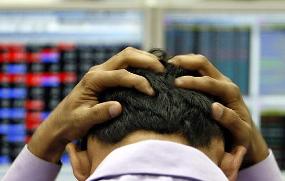 Stock Market Today, Dow Jones Industrials Down Triple Digits Again (Video)
Major U.S. stocks indices were each trading more than 1% lower Friday as investors showed caution near the end of a particularly volatile trading week that saw global markets unsettled by Europe's debt problems.
The Dow Jones Industrial Average was once again down by triple digits, losing 145 points, or 1.4%, to 10,376. The S&P 500 was lower by 18 points, or 1.6%, at 1111, and the Nasdaq was off by 51 points, or 2.2%, at 2268.
Adding to the sense of uncertainty on Friday, a bomb scare shut down Times Square in the afternoon but the suspicious package turned out to be a lunchbox filled with water bottles, according to CNBC.
"Markets have had a tremendous run-up since 2009, so some correction was expected. But corrections usually take place over weeks or months — not 30 minutes! That's very frightening for investors. People don't like to see so much volatility," said Andrew Neale, partner and head of wealth management at Fogel Neale Partners. "I think there's a high probability that that we could go a little lower and that volatility will continue until we find a level that people are comfortable with."
Friday's session has been particularly rocky with the Dow dropping more than 200 points before trading briefly in positive territory.
"The market is ignoring the cyclical power of the recovery," said Federated Chief Equity Market Strategist Phil Orlando, adding that the fundamentals of Friday morning's April jobs report were "off-the-charts phenomenal" but that markets were having a hard time getting past Europe.
"The fear is that since the (European Central Bank) has done nothing, the sovereign debt crisis in Greece will metastasize and jump the pond. There's a lot of concern about Europe going into the weekend with all these meetings coming up," Orlando said. "Anything can happen in the next couple of days, so no one wants to be long going into the weekend."