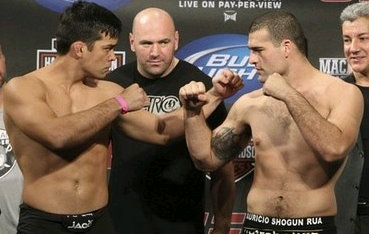 UFC 113, Machida vs Shogun Weigh Ins (Video)
Tonight marks the night to witness the UFC 113 MMA fights. The stage is set, the fighters are all weighed in and Pay Per View is ready to make millions!
But the problem here is that some of you may have actually missed the UFC 113 weigh ins! But no need to worry because I've posted a video of the entire weigh in of all fighters on the UFC 113 fight card.
Here's UFC 113 weigh in – Machida vs Shogun
Lyoto Machida weighed in at 204 pounds ahead of his light heavyweight championship bout tonight, while his opponent Mauricio "Shogun" Rua weighed just above at 205 pounds. Paul Daley and his opponent Josh Koscheck both weighed the same, at 170 pounds.
The only big difference during the UFC 113 weigh-in results was between Kimbo Slice, and his opponent Matt Mitrione. Kimbo weighed in at 225 pounds, while Matt tipped the scales at 253 pounds.