Verizon says Droid Eris update coming soon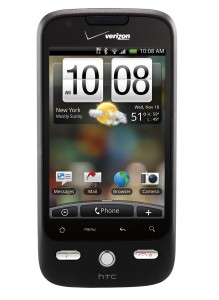 Well if you own a Droid Eris for Verizon you could be expecting an update to your handset. According to Verizon literature the Droid Eris is getting software update version ROM: 2.36.605.1/Radio: 2.42.00.04.12. The features of the update will included pinch-to-zoom in the Gallery & Google Maps, support for voice-to-text, a new gallery application with 3D layout & Google Maps with Navigation that just some of the features. Now it doesn't state in the Verizon literature that this is the Android 2.1 update. But judging from the features it it's safe to say that this update could be Android 2.1. Since these are the some of the same features found in the Nexus One. As far as a time frame for when the update will be rolled out has not been determined. As far as a time for when the update will being Verizon just say's it's "coming soon". Verizon also states in it's literature that it will have to erase the internal memory of the phone. This means you will have to reinstall your apps & your contacts will be erased. And some of the phones settings will be reset to factory settings. Below is a list of the features & improvements.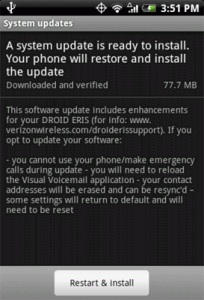 Enhancements:
 Pinch-to-zoom is now available when using the Gallery and
Google Maps.™
 New support for voice-to-text entry.
− Whenever a text-entry box appears, simply tap the
microphone icon on the virtual keyboard and speak.
 New Gallery application with 3D layout. View and share photos
taken with your phone and images from your online Picasa
Web albums.
 New Leap thumbnail view lets you pinch to jump between the
seven panels on your home screen.
 Additional calendar views and easier access to contacts make
navigating even quicker.
 Google Maps with Navigation provides free, traffic-enhanced,
turn-by-turn navigation.
 With the Enhanced Android Market,™ you'll enjoy a better
browsing experience as well as even more applications, including
Verizon Wireless content featuring self-service applications.
 Ability to log onto and access multiple Google accounts at once.
 Support for 19 Microsoft® Exchange Server policies makes your
phone more secure and business friendly.1
 Desk Clock intelligently dims your screen and displays the current
time while charging.
 Location-based cinematic full screen weather keeps you on top of
changing conditions.
Improvements:
 Free Yahoo!® Mail is now supported—simply sign in with your
Yahoo! email address and password.2
 Longer battery life due to power savings.
 Improved YouTube® video playback.
 Better Bluetooth® support, including contact transfer.
 Automatic settings for POP3 verizon.net email accounts.
 Added support for stand-alone Wi-Fi when device is in
airplane mode.
 Improved handset audio when disconnecting a wired headset.
 Faster power-up time.
 Improved swipe-unlock functionality.
 Added support for Microsoft Office 2007 documents.
Source: Verizon
Josh Uhlemeyer
Former Author of Mobile News Now.