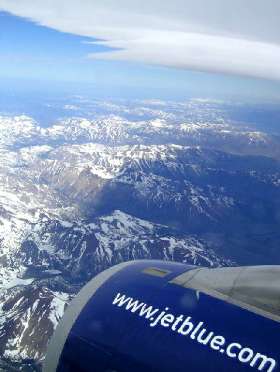 Jet Blue Airlines – Contact Jet Blue Airlines For $10 Dollar Flights
Jet Blue Airlines $10 Dollar Flights – Jetblue Airlines is celebrating 10 years of in flight service to customers with their $10 air fare sale. Everyone can fly for only $10 – no matter what your destination may be.
Click here for Jet Blue $10 dollar flight detail
This Jet Blue $10 fare sale ends 5/10/10, 11:59 PM ET, this promo available for online purchase only at jetblue website.
According to the schedule, you have less than 1 hour to get your flight plans in place and get your $10 dollar Jet Blue flights scheduled.
Don't have a trip plan in the next few days? Change your mind and take a trip with all your family and purchase your tickets with jetblue flights fare sale.
According to Jet Blue Promo page.
We're so ecstatic to be celebrating a decade of style, value and award-winning service that we can't stop thanking our customers. So for today only, all remaining seats on U.S. originating flights on May 11-12 are just $10* each way. Remember, this sale is valid today only and it's only available online, so hurry and book now before all seats are gone!