Shawn Johnson Confirms 2012 Olympics, Throws A Pitch (Video)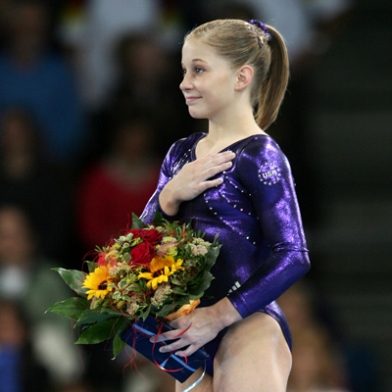 Shawn Johnson confirmed on Tuesday that she plans to compete in the 2012 Olympics. Johnson made the announcement at an event in Des Moines at the Iowa Events Center. Her mother confirmed to KCCI on Tuesday that Shawn plans to continue her training and compete at the 2012 games.
Shawn Johnson had surgery in February for a torn ACL and was on crutches for weeks. At the time, doctors said any gymnastic training would have to wait at least six months.
Here's a video of Shawn Johnson news about the 2012 Olympics:
Johnson Throws a bouncy pitch to home plate:
In other news about Shawn Johnson:
Johnson was recently asked to throw out the first pitch at an Iowa Cubs game – Shawn Johnson was born in Des Moines, Iowa.
The pitch was pretty rough looking as it bounced its way to home plate.
Here's the video footage of Shawn Johnson's pitch to home plate:
Johnson is the 2008 Olympic women's balance beam gold medalist and the individual all-around silver medalist.
The 2012 games are scheduled to take place in London, United Kingdom, from July 27 to Aug. 12, 2012.