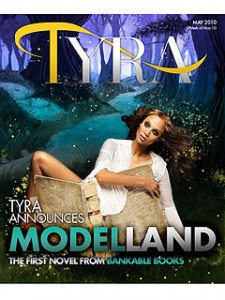 Supermodel And TV Host Tyra Banks To Publish Her First Novel, A Fantasy.
Tyra Banks: An executive producer, talk-show host, actress, reality-tv superstar, world famous supermodel, and now, an author.
According to Reuters and People magazine, the host of "America's Next Top Model" as well as her own titular talk show will write three novels to be published by Delacorte Press, an imprint of Random House that focuses on the young adult market.
She has already finished the first, called "Modelland", which is about a teen girl in a make-believe society at an academy for exceptional models called Intoxibellas.
Ms. Banks, 36, writes in a note to fans posted Tuesday on Tyra.com. "It's for all the girls and guys who want a lot more FANTASY in their lives … and some fierceness and magic, romance and mystery, crazy and wild adventures, and yeah, some danger too."
While I applaud anyone who finds the courage to pursue their literary dreams, I have to admit some discomfort that reality-tv and pop culture is worming its way into a realm created by such greats as Tolkien, Lewis, and Chesterton.