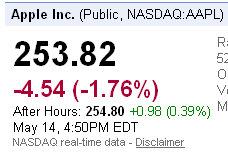 NASDAQ:AAPL – Apple Stock Price Up Nearly 8% For The Week
Apple shares started the week out with a bang when Apple stock prices jumped nearly 7% on Tuesday morning, despite having a rough day on Monday. For the week ending today, Friday May 14th, Apple stock prices are about to end the week up nearly 8% (currently at 7.61% at the time of this writing).
Other Apple News:
PCWorld.com reports that The U.S. International Trade Commission will investigate complaints by Apple that Eastman Kodak violated its patents related to digital imaging devices and software, the latest dispute in a long-standing patent skirmish between the two companies.
Apple filed a so-called section 337 complaint against Kodak on April 15, alleging that the company had violated its patents related to digital imaging devices and associated software. In the complaint, Apple asked the USITC to bar Kodak from importing products containing the technology into the U.S.
MercuryNews.com reports that Apple CEO Steve Jobs personally asked tech website Gizmodo to return that rogue iPhone prototype, Bloomberg News is reporting today. A judge in San Mateo County today unsealed a search warrant affidavit in the case of the device, which found its way from a Redwood City bar to posts on tech-toy website Gizmodo.