HTC EVO 4G Release Date, Pricing & Data Plan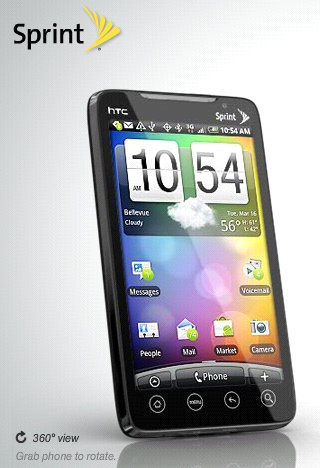 We finally have a solid release date from Spring on the upcoming, and one and only 4G wireless data phone, the HTV EVO 4G. The release date for the HTV EVO 4G is June 4th, 2010.
HTC EVO 4G release date is June 4th, 2010
Sprint is said to be taking pre-orders for the HTC EVO 4G at the end of May (coming right up), although taking a look at the Sprint website there is no indication as to when the pre-order window will open.
HTC EVO 4G Pricing & Data Plan
The EVO 4G will be available on June 4 for $199 with a new 2-year contract after rebates
If you get the Sprint Everything Data 450 plan with your Android powered HTC EVO 4G, you will pay $79.99 a month. ($69.00 / month, plus a $10 a month premium data charge.)
That includes:
Unlimited calling in America to any wireless phone (via Any Mobile, Anytime)
Unlimited Text
Unlimited Web
450 Anytime minutes
Certainly $80/ month for unlimited everything, including 3G and 4G data is sounding like Sprint's going to get more of my money. Sprint will also be charging an additional $29.99 per month to use the mobile hotspot function of the phone. This allows sharing the 4G connection with up to 8 devices over the phone's Wi-Fi connection.
Check out this video review of the Android powered HTC EVO 4G by Sprint: