Bret Michaels on Oprah Video, Bret Michaels 'Thankful to be alive!'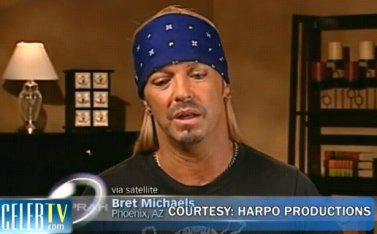 In his first public appearance since having a brain hemorrhage, Bret Michaels speaks to Oprah about the situation and experience he went through during this horrible tragedy.
Bret Michaels says, very plainly, that "I'm lucky to be alive and I'm not sure yet what the purpose is for keeping me alive, but without question, I'm lucky to be alive right now!" Michaels goes on to explain to Oprah exactly what happened during those early morning hours when he suddenly heard a pop, something akin to a gun shot, and then a sharp pain from his temple down to his ear drum – and he knew something was seriously wrong.
One of the more shocking things that Bret Michaels said was that he could actually hear the doctor say to his girlfriend who was there with him, "you might want to go ahead and have his kids come to the hospital…"
Wow – could you imaging hearing a doctor say that to someone about you?
Here's Bret Michaels talking about his brain hemorrhage: