Campbell Brown Out, Eliot Spitzer In At CNN?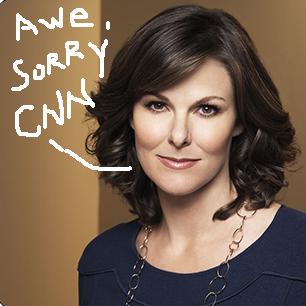 News is breaking that CNN anchor woman Campbell Brown has been granted an early out from her contract with CNN.  In the deal to allow an early break with her contract, Campbell Brown is agreeing to stay on as the anchor in the 8pm EST hour until a replacement has been found.
According to sources, Campbell Brown requested the early out from her contract months ago. Reports are that Brown was attempting to get moved to the 7pm EST opening because she believed she would perform better at the early hour, and also she would not have to compete with the likes of Bill O'Reilly and Keith Olbermann.
CNN rejected these requests, upon which Campbell Brown then asked for a release from her contract.
There is also speculation that Campbell Brown was requesting to leave CNN due to her husband, Dan Senor, possibly running for a Senate seat in New York – however, that never transpired.
Welcome Eliot Spitzer to the CNN Discussion
No sooner does the news of Campbell Brown's exit from CNN hit the news wires, do we hear the name Eliot Spitzer being discussed as a possible replacement for Brown in the 8pm EST time slot on CNN.
According to Huffington Post, in CNN's pursuit of ratings, CNN President John Klein is considering a 'Crossfire'-style debate show and that Spitzer is a candidate for the panel.
Both Spitzer and CNN denied the reports and Spitzer is even quoted as saying "Nope. nope." when asked about the CNN anchor position.
What do you think?
First let me ask, would you like to see Eliot Spitzer on CNN as an anchor and host of a debate style, cross fire discussion platform?
I think Eliot Spitzer, with his experience as a tough litigator, would be a great host for the CNN show and would definitely increase ratings and viewers.
But do you think that Eliot Spitzer would be willing to take on the position?
Would you consider watching CNN at 8pm EST is Eliot Spitzer was hosting?