Kelley Preston Pregnant, John Travolta's Dogs Killed – What A Day!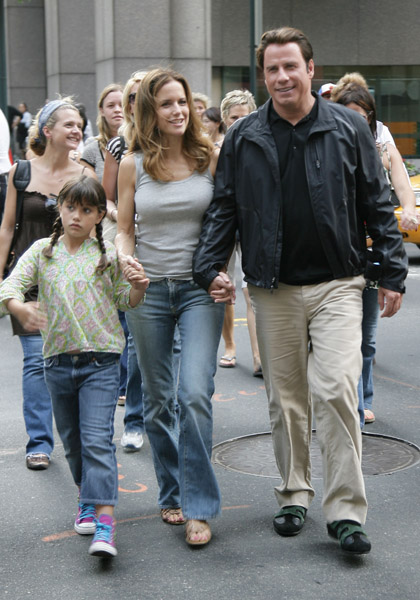 The past 24 hours for John Travolta and wife Kelley Preston have been a roller coaster of events. As we wrote yesterday, John Travolta's dogs were killed at a Bangor, Maine airport as the dogs were walking into the tarmac area to greet John.
Kelley Preston, Age 47, Pregnant
And literally within 24 hours of the news about John Travolta's dogs being killed, we are now getting news that John Travolta's wife, Kelley Preston, is pregnant. The big discussion around Kelley Preston being pregnant is that she is 47 years old. So is Kelley Preston too old to have a baby? I say heck no! If Kelley Preston is healthy, vibrant, and understands the complications and takes precautions (which I'm she will), then I don't see where it's a big deal at all. And I'm sure Kelley Preston's doctors feel the exact same way.
I think it's a great thing that John Travolta and Kelley Preston are working on bringing new life and joy into their lives after losing their 16 year old son, Jett, to a seizure in 2009.
John Travolta's Dogs Killed
And now back to John! On top of losing his son Jett in 2009 – as I just mentioned – John Travolta is now having to deal with the loss of his dogs. Apparently the dogs were being brought out to the tarmac to meet John Travolta, when a luggage truck on the tarmac hit and killed John Travolta's dogs.
So when John Travolta was getting off the plane, expecting to greet his dogs and head out to their cottage in Maine, he was greeted with the unfortunate news about his dogs.
Like I said, I think it's a great thing that John Travolta and Kelley Preston are working on bringing a new life, and new joy into their lives. Maybe they can get all of this behind them and start enjoying their family along with their daughter!
I might also add that it's refreshing to see a Hollywood couple stick together like John Travolta and Kelley Preston have. I think they, as a family and as a couple, set a great example for the rest of Hollywood that seems to think it's cool to get married and then within weeks or months, get a divorce!