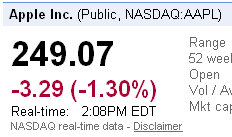 NASDAQ:AAPL – Apple Shares Continue Slide with Tech Stocks
Apple shares (NASDAQ:AAPL) continue to lose steam today as the overall tech sector is down. Apple shares are currently off -1.64%, down about 4.13 points at 248.23 per share. The NASDAQ index is off -0.78% at 2,299.30.
Despite Apple shares being down over 1.6% today, as I wrote yesterday Apple's stock price is up over 105% for the trailing 12 months.
Apple (AAPL) chart for today so far: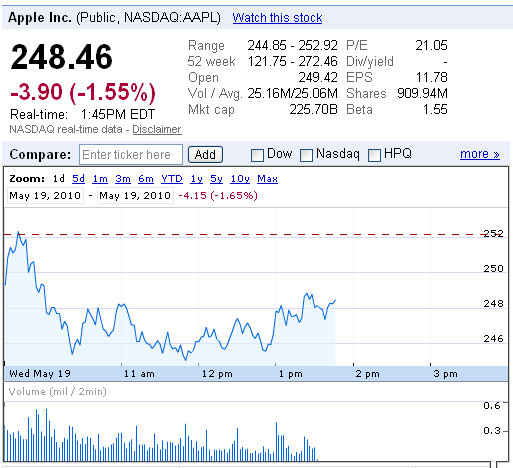 As you can see, Apple shares started off with a jump as the markets opened. But then, almost immediately, Apple shares took a dramatic nose dive and have been struggling to get back those initial gains.
Some of the concerns that are suppressing not only Apple shares but the market as a whole are the European economic struggles. Despite a massive bailout plan by the European government, the European economy shrugged off that bailout and continues in a downward spiral, dragging the US markets with it.
Apple (AAPL) Analysts Still Calling for "Outperform"
Barclays Capital analyst Ben Reitzes is "excited" about AAPL because of the iPad. Channel checks continue to indicate very strong sales and corporations are piloting the device at a surprising pace. He believes that his estimate of 1.5 million iPad units for the June quarter will likely be conservative by about 1 million units (that's a lot of upside). Reitzes reiterates his Overweight rating and $315 price-target.
Toni Sacconaghi at Bernstein Research believes European currency provides a risk to revenue forecasts for hardware companies. In addition, he continues to believe that 2010 will be a strong year (relatively speaking) and that PC related names are inexpensive at current levels. Toni reiterates his Outperform rating on AAPL and price-target of $300.
[resource:  BusinessInsider.com]