Lakers Take 2-0 Lead Over Suns in Western Conference Championship, Kobe Bryant and Los Angeles Lakers prove to be too strong for Phoenix Suns.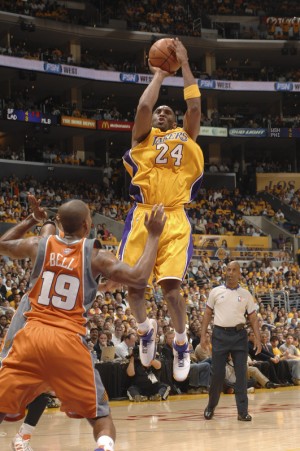 The Los Angeles Lakers beat the Phoenix Suns in Game 2 of the Western Conference Championship Wednesday night 124 – 112. The game was played in Los Angeles at the Staples Center.
The Los Angeles Lakers are just proving themselves to be too strong, and possess too many weapons for the Phoenix Suns to effectively contend. Even with the Phoenix Suns having Grant Hill and Steve Nash, Kobe Bryant and Los Angeles Lakers are nearly impossible to stop.
There were some moments during Game 2 when the Lakers looked like they might be a bit nervous and the Phoenix Suns had a couple of good runs, but it's what happens over the course of 4 full quarters that matters, and the Lakers just couldn't be stopped.
At this point, the Phoenix Suns have to be sensing that this Western Conference Championship is all be locked in the for the Los Angeles Lakers. However, the Phoenix Suns still need to head back to Phoenix and play in front of a home crowd and who going to be expecting them to play hard and contend. But I'm afraid that the Suns have already experienced the over powering play of the Lakers and they might already be sensing the inevitable.