Android Update: Droid Eris Updates to Android 2.1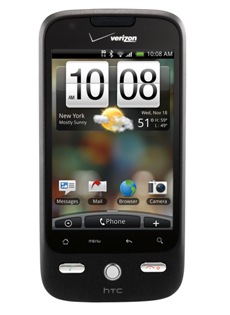 According to ZDNet writer Joel Evans, the Droid Eris mobile phone received an update to the Android 2.1 version of the Android OS. Here are some features that he mentioned for the new Android 2.1 update:
New Leap thumbnail view, which lets you pinch to jump between panels on your home screen (I hit that one by accident already)
Additional calendar views and easier access to contacts
Google Maps with Navigation (free, traffic-enhanced, turn-by-turn navigation) – I'll be putting that one to the test tomorrow
Android Market, now including more applications since I'm running 2.1
Ability to log onto multiple Google accounts at once
Support for 19 Microsoft Exchange Server policies
Desk Clock that dims your screen and displays the current time while charging–that's worth the update all by itself! ;-)
Location-based cinematic full screen weather–um … ok, I guess that's cool?
Free Yahoo Mail support
Longer battery life–I know many users who will be very happy with that one
Improved YouTube playback–believe it or not, that's cool, since I do a fair amount of YouTubing on my iPhone at night
Better Bluetooth support, including contact transfer
Automatic settings for POP3 Verizon.net email accounts–yeah, great
Added support for stand alone Wi-Fi when device is in airplane mode–I stumbled on that one on my iPhone the other day, too
Improved handset audio when disconnecting a wired headset–I'm wondering how it supports switching back and forth between a bluetooth headset, more than disconnecting a wired one–does anyone use a wired one these days?
Faster power up–always a nice addition
Improved swipe unlock functionality–what's improved? Now it works better?
Added support for Office 2007 documents–I can see value there
If you're a Droid Eris user, this is great news. If you're not a Droid Eris user, you can pick one up for $79.99 (with a 2yr contract and a $100 discount), but you run the risk of buying a phone that is rumored to be discontinued in the next month or so.
[source:  ZDNet.com]