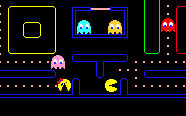 Google PAC-MAN Logo Day 3, Celebrating PAC-MAN 30th Anniversary
As I wrote yesterday on Day 2 of Google Pacman Logo, I predicted that since Pacman logo is not changing, this might just be a weekend long logo change for Google. And when I woke up this morning and fired up Google, I wasn't too terribly surprised to see the Google Pacman Logo extending into day 3.
Day 3 – Google Pacman Logo
Google must figure that with it being the weekend, people can play the classic Pacman game throughout the weekend and enjoy the free time they might have on the computer.
I'm going to wager, however, that come tomorrow morning (Monday) – and more than likely right at midnight Eastern Standard Time – we are going to see the Google Pacman logo disappear.
Google PAC-MAN 30th Anniversary
One thing the web has been fascinated with over the Google Pacman Logo is not so much the logo itself, but moreso the fact that it's Pacman's 30th anniversary. Looking at the traffic stats over the past couple of days, the keyword phrase PAC-MAN 30th Anniversary – and typed exactly like that – has sent waves of traffic to my Google Pacman articles. Moreso than any keywords related to Google Pacman Logo.
How to play Google Pacman Logo game
I've written a couple of articles on playing the Google Pacman logo game. But perhaps the best article on playing Google's Pacman logo is the one I wrote yesterday after I learned how to play 2 players on Google's Pacman logo.
You can learn how to play Google Pacman logo game here.