Miami Says Goodbye to the Cast of Jersey Shore.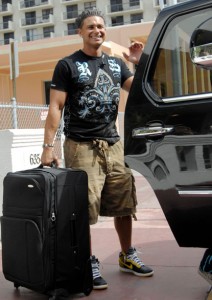 Probably with a heartfelt sigh of relief. The cast of the hit MTV show ( the most ridiculous show on television, in my humble opinion ) packed their bags and left Saturday. They'll be doing promo work for their series all next week, then go back to partying for awhile before beginning work on their third season.  According to TMZ, the cast has been anxious to leave Miami Beach for some time now.
Probably wanted to get out before they were thrown out.