Mortgage Rates Update: Overnight Averages on Mortgage Rates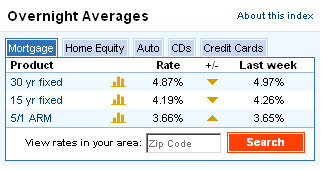 Previously occupied homes sales increased in the month of April as a result of the homebuyer tax credit, and the historically low mortgage interest rates. However, according to some economists, the growth in real estate purchases is unlikely to continue.
The government tax credit on home purchases has now expired. And economists are warning that American families are facing huge financial obstacles, to the point where historically low interest rates will not be enough to continue lifting the housing market.
"Although mortgage rates have fallen sharply, the combination of high unemployment, heavy indebtedness and tight credit suggest to us that demand will stumble," said Paul Dales, an economist at Capital Economics.
Sales of previously owned homes rose 7.6 percent to a seasonally adjusted annual rate of 5.77 million, the National Association of Realtors said Monday.
The sales increase sparked a rise in home prices. The median price for a new home rose to $173,100, up 4 percent from a year ago.
Overnight Mortgage Rates (from Bankrate.com)
30 year fixed mortgage rate:  down / 4.87%
15 year fixed mortgage rate:  down / 4.19%
5/1 ARM:  up / 3.66%