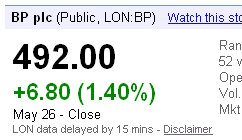 NYSE:BP – BP Shares Up As Top Kill Procedure Approaches
Early Wednesday morning marked the beginning of the procedure called Top Kill, which is BP's effort to stop the gushing petroleum that is causing one of the world's worst global environmental disasters.'
However, BP (NYSE:BP) shares are currently up on the NYSE as BP's CEO Tony Hayward gave the Top Kill procedure a chance of 60 to 70 percent at being successful in stopping the gushing oil from the earth.
BP shares are up +6.80 (1.40%), currently trading at 492.00 on the NYSE.
If BP fails at the Top Kill procedure, then the outlook for BP could grow much worse.  According to Shell, if this procedure fails, the company and millions of Gulf Coast residents could have to wait until August for a relief well to be finished. The prospect of oil gushing into the gulf for another two to three months has spooked investors, who have wiped around $30 billion off BP's market value since the Deepwater Horizon drilling rig caught fire and sank last month.
However, if BP is successful with their Top Kill procedure to stop the leakage from its Macondo well, we think we could see a relief rally in the shares to around the mid-500's p/sh ($47/ADR) level after their 14% underperformance of the global sector, according to The Wall Street Journal.