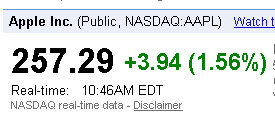 NASDAQ:AAPL – Apple Shares Up on iPad International Launch
On the day that Apple releases the iPad internationally, Apple shares (NASDAQ:AAPL) start the day out strong on the NASDAQ. As of now (10:30am EST), Apple shares are up +4.51 (1.78%), currently trading at 257.98.
When the NASDAQ opened this morning, Apple shares took an initial jump upward on the news of long lines, and crazed iPad fans waiting all night to get their hands on Apple's "magical" iPad.
Here's a graph showing Apple shares jumping up as the NASDAQ opened this morning: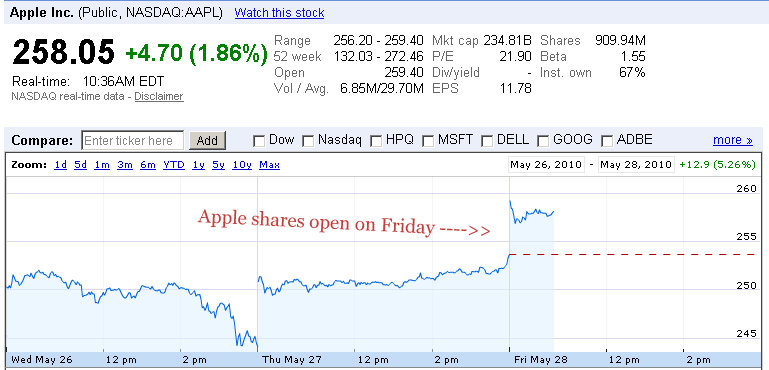 Supplies of iPad could impact share prices
As Apple is already experiencing here in the United States, high demand and inadequate supplies of the iPad are causing potential sales targets to be missed. And by looks of some video and images being captured of iPad fans waiting to get their iPad, it doesn't look like the international demand for the iPad device is going to be any less than it is here in the US.
Potential 4th generation iPhone announcement coming
Coming up next month, on June 7th at the WWDC2010, it is widely expected that we'll here Steve Jobs announce the new, 4th generation iPhone during his keynote speak.
With the iPad launching internationally, and the release of the next generation iPhone, Apple shares could climb above 400 points by the end of summer.
What do you think?
Do you think we'll see Apple shares break 400 by the end of this summer?