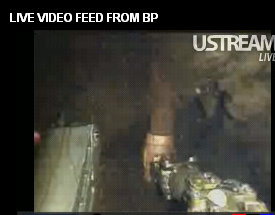 BP Oil Spill Live Feed, New Live Feed Shows Oil Being Channeled
Up to today, the BP live oil spill feed was showing a calm picture without any gushing oil and only equipment. Today, however, that has changed and we now get a clearer picture of the massive oil gushing from the BP oil pipe 5000 feet below the ocean surface.
This new live video feed from BP is not only showing the world once again the severity of the gushing oil from the pipe, but the video is now showing something we haven't seen before.
The oil, in some shots, is showing the gushing oil being channeled through pipes as it appears that BP is preparing to funnel this gushing oil onto barges.
These new video images are somewhat encouraging even in the midst of the discouraging amount of oil being gushed into the gulf. If BP can continue on successfully with their seal placement on the pipe, and then channel the rest of the gushing oil through pipes onto barges, then the damage will be substantially mitigated.
Here's the new live BP oil spill video feed: