BP Gulf Oil Spill Update – Oil Cleanup To Stretch To Next Fall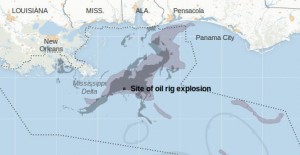 The volume and velocity of the oil gushing from the BP oil pipe in the Gulf of Mexico is something that both government officials and BP executives are underestimating. In fact, and something that people may have forgot, but when the BP oil rig blew up and the oil pipe broke, the initial estimates were that the oil pipe was gushing only 1000 barrels of oil a day. Today, the estimates by BP and government officials place the volume of gushing oil upwards of 25,000 barrels a day.
With that level of volume and velocity of oil spewing from the busted well, Adm. Thad W. Allen, the Coast Guard commander in charge of the government relief efforts, sees the clean up effort of the Gulf of Mexico stretching well into fall of 2010.
BP officials have even underestimated the intensity of the oil gushing from the well even as early as today as they attempt to control the containment seal valves. It has become an intricate balance of engineering and timing to prevent another failed attempt at controlling the gushing oil.
It's hard to imagine 25,000 barrels of oil a day rushing into the Gulf of Mexico. All of that oil just continuing to fill the Gulf is very discouraging.  At this point all of the effort and focus from both BP and the government needs to be on stopping that pipe from gushing oil – period. Not only is the cleanup of the gulf unprecedented, but all of the industries along the coast are going to be impacted much beyond just the fall of 2010.