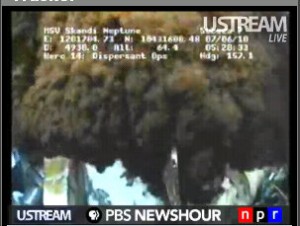 BP Oil Spill Live Feed – A Raging Beast
Below you can see the BP oil spill live video feed continue to just ravage the Gulf of Mexico with a non stop barrage of oil gushing into the gulf.
Here we are, about 2 months into this crisis, and despite the efforts of BP up to this point, the busted oil pipeline continues to gush oil into the Gulf of Mexico. The untold level of damage to the environment, animal life, and the economy of the gulf coast region is something that cannot be tolerated for much longer.
I'm starting to form the belief that the federal government should come in and take some drastic measures on stopping this pipeline. I've heard it mentioned that even a nuclear explosion could work at decimating the pipeline and stopping the leak. I realize that might sound like a ridiculous idea, but look at this video and you tell me how much more of this oil gushing into the gulf can be tolerated.
BP's efforts have been slow to produce any measurable results. I realize that the recent containment cap has succeeded in funneling oil to a processing ship. But it has also succeeded at increasing the gushing oil by 20% – that' 20% on top of the estimated 25,000 barrels of oil per day that is already gushing into the gulf.
I don't know – but it seems that this disaster can not be tolerated for too much longer before something drastic has to be done to stop that pipeline from spewing oil into the gulf.
Here's the BP oil spill live feed video: