Lakers vs Celtics, Game 2 Was A Battle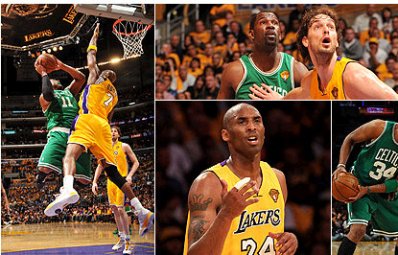 It was clear watching game 2 of the NBA finals last night between the Lakers and the Celtics, that I was watching basketball at the absolute highest caliber that I've ever seen before.
From Ray Allen setting an NBA final's 3 point record, to Kobe Bryant coming in to close the half and scoring 3 pointers at will – last night's game 2 of the Lakers vs. Celtics was amazing to watch as a basketball fan.
The Lakers seemed to have a pretty easy way of coming back from a pretty big deficit in the first half. I though for sure with this come back that the Lakers were going to come into the second half and start pulling away from the Celtics.
But the hard fought efforts of people like Rajon Rondo, and Glen "Big Baby" Davis, the Celtics were able to fight off the relentless attacks of the Lakers and end up winning game 2 of the NBA Finals.
Game 3 of the NBA Finals is now heading to Boston on Tuesday night with a 9pm tip off.
I have to say however, that unless Boston can come in and play at the high level of caliber of basketball each and every game, then the Lakers will end up winning the NBA finals. The Lakers are a refined machine, losing does not come easy for these guys.