iPhone 4G Rumors, New iPhone 4G Photos Leaked (Images)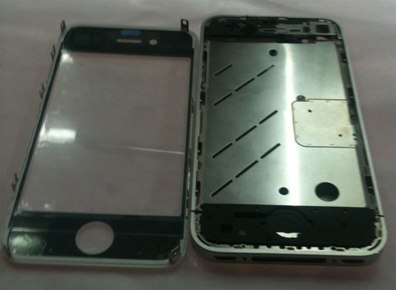 Apple is becoming synonymous with BP's leaking oil pipe – they are apparently having a hard time containing their new iPhone 4G. The folks over at Powerbook Medic have just released images of what they claim are the parts for the new Apple iPhone 4G.
See images of the iPhone 4G parts below
If these images are in fact real parts from the iPhone 4G – or the next generation iPhone… whatever you want to call it – then it's true, Apple is having serious leakage issues with their new iPhone.
Is there a seal containment that can be dropped on Apple to keep the iPhone 4G info from gushing onto the web?
Here's more info from Powerbook Medic on the supposedly leaked photos of the iPhone 4G parts:
"The digitizer resembles the 3G and 3Gs with the exception of a camera hole next to the top speaker. The back case doesn't resemble anything we've seen so far. The photos do confirm these will likely be available in white.
One other note is that the model # of the device in these pictures is XXXXX. Usually that indicates a prototype model. Usually you don't see prototype pictures so close to a model release, which makes us wonder if the iPhone 4G really will be released at WWDC."
Here are the iPhone 4G parts that are leaked from Apple: