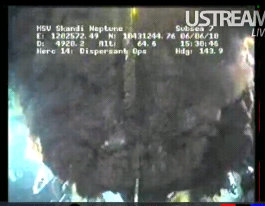 BP Oil Leak Live Video Feed, Gonna Get Worse Before It Gets Better
There are reports coming in stating that since BP successfully completed the cut of their busted oil pipe, 20% more oil is gushing from the leak into the Gulf of Mexico.
see the live BP oil leak video below
BP stated before they started what is now their 3rd attempt at stopping the oil leak, that the process would cause an increase in oil gushing from the pipe prior to the seal containment taking full effect.
This has proven to be true, and reports are now stating that 20% more oil is gushing from the leaked pipe.
However, there is good news about BP's oil leak containment efforts. Oil has reached the containment ship and is actually receiving oil from the leaking pipe. The process of cutting the pipe, placing a containment seal over top of the area, and then funneling the gushing oil seems to be working.
But BP has been clear from the beginning – this process is going to take time to increase the amount of oil that will be funneled up to the cargo ships on the surface.
Here's a live video feed of BP's leaking oil pipe in the Gulf of Mexico: