Google Background, How To Remove Google Background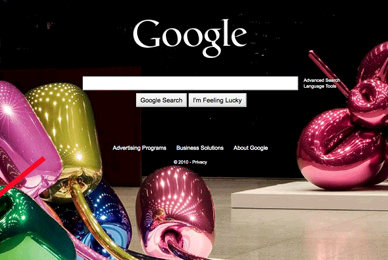 Google recently made a change to their homepage by placing a background image that automatically appeared whenever you visited Google.com. The background image would actually change and rotate through different images, all of which would happen automatically.
This new experiment from Google did not go over so well however. Instantly, Google users started to light up the blogosphere with complaints and ridicule for forcing something on Google users that they did not ask for.
So now, one of the biggest searched terms today has been remove Google background. Obviously, since the Google background image happened automatically, people were immediately looking for ways to get rid of it.
How to remove Google's background image:
Removing the background image is quite simple. And actually, the link to remove the image is very difficult to see because it's hidden down in the lower left hand corner of the Google homepage.
Simply find the link called "remove homepage image" in the lower left hand corner of the Google homeage > click it > and that's it, the homepage will go back to it's original basic design.
UPDATE:
Google has now disabled the homepage image so you no lnoger have to worry about disabling an automatically placed image.
Apparently, Google wanted to be like Bing for second there.
I would highly recommend that Google stay with the simplistic approach to their search engine. It's been working out "ok" for them so far :-)