Jacques Cousteau, Google Logo Celebrates Jacques Cousteau Birthday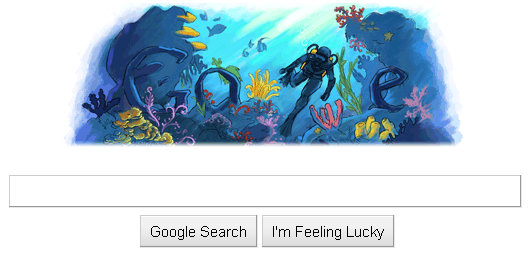 Google's custom logo designs, otherwise known as Google Doodles, seem to be showing up much more frequently than the past. Even entire series of Google logos are showing up such as those that were generated during the 2010 Winter Olympics. For each day during the 2010 Winter Olympics, Google celebrated with a new Google doodle logo.
Today's Google logo is customized to celebrate the 100th birthday of Jacques Cousteau who, according to Wikipedia was a French naval officer, explorer, ecologist, filmmaker, innovator, scientist, photographer, author and researcher who studied the sea and all forms of life in water. He co-developed the aqua-lung, pioneered marine conservation and was a member of the Académie française. He was commonly known as "le Commandant Cousteau" or "Captain Cousteau".
Cousteau was born on 11 June 1910, in Saint-André-de-Cubzac, Gironde, to Daniel and Élisabeth Cousteau. He had one brother, Pierre-Antoine. Cousteau completed his preparatory studies at the prestigious Collège Stanislas in Paris. In 1930 he entered the École Navale and graduated as a gunnery officer. After an automobile accident cut short his career in naval aviation, Cousteau indulged his interest in the sea.
More than likely you'll be able to find a lot of content and information about Jacques Cousteau, his birthday, and the Google logo that is now celebrating his 100th birthday.