2010 ESPN World Cup Schedule, Mexico vs South Africa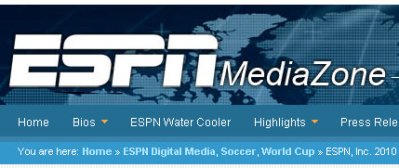 Coming up first in the 2010 World Cup is Mexico vs South Africa. This showdown is already getting a lot of attention and conversation on the web, especially with the host company being on the field during for the opening game. South Africa has quickly become the center of attention throughout the world, and all eyes will be on this country for the next month or so.
For complete coverage of the 2010 World Cup, the best source to stay plugged into is ESPN.
Here's an excerpt from the ESPN Media Zone site:
ESPN will present comprehensive coverage of the 2010 FIFA World Cup June 11, through July 11, from 10 stadiums in nine cities across South Africa.  All 64 matches will be aired live and in high definition on ESPN, ESPN2 and ABC, and extensive coverage on ESPN360.com and ESPN Mobile TV.  In addition, 2010 FIFA World Cup studio programs, including prematch, halftime and postmatch segments, will be presented in high definition.
ESPN will air 44 FIFA World Cup matches from South Africa – the most ever for the network in one tournament.  ESPN2 will feature 10 matches.  ABC will broadcast 10, beginning with the U.S. Men's National Team's tournament opener vs. England on Saturday, June 12, at 2 p.m. ET in Rustenburg.  The tournament will conclude on ABC with the title match Sunday, July 11, at 1:30 p.m. ET from the Soccer City Stadium in Johannesburg.
Here's the ESPN 2010 World Cup Schedule:
| | | | | | | |
| --- | --- | --- | --- | --- | --- | --- |
| Date | Time (ET) | Network | Match | Group | Site | Match # |
| Fri 6/11 | 9:30 a.m. | ESPN/ESPN360.com | South Africa vs. Mexico | A | Johannesburg | 1 |
| | 2 p.m. | ESPN/ESPN360.com | Uruguay vs. France | A | Cape Town | 2 |
| Sat 6/12 | 7 a.m. | ESPN/ESPN360.com | Korea Republic vs. Greece | B | Port Elizabeth | 3 |
| | 9:30 a.m. | ESPN/ESPN360.com | Argentina vs. Nigeria | B | Johannesburg | 4 |
| | 2 p.m. | ABC | England vs. USA | C | Rustenburg | 5 |
| Sun 6/13 | 7 a.m. | ESPN/ESPN360.com | Algeria vs. Slovenia | C | Polokwane | 6 |
| | 9:30 a.m. | ESPN/ESPN360.com | Serbia vs. Ghana | D | Pretoria | 7 |
| | 2 p.m. | ABC | Germany vs. Australia | D | Durban | 8 |
| Mon 6/14 | 7 a.m. | ESPN/ESPN360.com | Netherlands vs. Denmark | E | Johannesburg | 9 |
| | 9:30 a.m. | ESPN/ESPN360.com | Japan vs. Cameroon | E | Bloemfontein | 10 |
| | 2 p.m. | ESPN/ESPN360.com | Italy vs. Paraguay | F | Cape Town | 11 |
| Tue 6/15 | 7 a.m. | ESPN/ESPN360.com | New Zealand vs. Slovakia | F | Rustenburg | 12 |
| | 9:30 a.m. | ESPN/ESPN360.com | Ivory Coast vs. Portugal | G | Port Elizabeth | 13 |
| | 2 p.m. | ESPN/ESPN360.com | Brazil vs. Korea DPR | G | Johannesburg | 14 |
| Wed 6/16 | 7 a.m. | ESPN/ESPN360.com | Honduras vs. Chile | H | Nelspruit | 15 |
| | 9:30 a.m. | ESPN/ESPN360.com | Spain vs. Switzerland | H | Durban | 16 |
| | 2 p.m. | ESPN/ESPN360.com | South Africa vs. Uruguay | A | Pretoria | 17 |
| Thu 6/17 | 7 a.m. | ESPN/ESPN360.com | Argentina vs. Korea Rep. | B | Johannesburg | 18 |
| | 9:30 a.m. | ESPN/ESPN360.com | Greece vs. Nigeria | B | Bloemfontein | 19 |
| | 2 p.m. | ESPN2/ESPN360.com | France vs. Mexico | A | Polokwane | 20 |
| Fri 6/18 | 7 a.m. | ESPN/ESPN360.com | Germany vs. Serbia | D | Port Elizabeth | 21 |
| | 9:30 a.m. | ESPN/ESPN360.com | Slovenia vs. USA | C | Johannesburg | 22 |
| | 2 p.m. | ESPN2/ESPN360.com | England vs. Algeria | C | Cape Town | 23 |
| Sat 6/19 | 7 a.m. | ESPN/ESPN360.com | Netherlands vs. Japan | E | Durban | 24 |
| | 9:30 a.m. | ESPN/ESPN360.com | Ghana vs. Australia | D | Rustenburg | 25 |
| | 2 p.m. | ABC | Cameroon vs. Denmark | E | Pretoria | 26 |
| Sun 6/20 | 7 a.m. | ESPN/ESPN360.com | Slovakia vs. Paraguay | F | Bloemfontein | 27 |
| | 9:30 a.m. | ESPN/ESPN360.com | Italy vs. New Zealand | F | Nelspruit | 28 |
| | 2 p.m. | ABC | Brazil vs. Ivory Coast | G | Johannesburg | 29 |
| Mon 6/21 | 7 a.m. | ESPN/ESPN360.com | Portugal vs. Korea DPR | G | Cape Town | 30 |
| | 9:30 a.m. | ESPN/ESPN360.com | Chile vs. Switzerland | H | Port Elizabeth | 31 |
| | 2 p.m. | ESPN/ESPN360.com | Spain vs. Honduras | H | Johannesburg | 32 |
| Tue 6/22 | 9:30 a.m. | ESPN/ESPN360.com | Mexico vs. Uruguay | A | Rustenburg | 33 |
| | 9:30 a.m. | ESPN2/ESPN360.com | France vs. South Africa | A | Bloemfontein | 34 |
| | 2 p.m. | ESPN2/ESPN360.com | Nigeria vs. Korea Republic | B | Durban | 35 |
| | 2 p.m. | ESPN/ESPN360.com | Greece vs. Argentina | B | Polokwane | 36 |
| Wed 6/23 | 9:30 a.m. | ESPN2/ESPN360.com | Slovenia vs. England | C | Port Elizabeth | 37 |
| | 9:30 a.m. | ESPN/ESPN360.com | USA vs. Algeria | C | Pretoria | 38 |
| | 2 p.m. | ESPN/ESPN360.com | Ghana vs. Germany | D | Johannesburg | 39 |
| | 2 p.m. | ESPN2/ESPN360.com | Australia vs. Serbia | D | Nelspruit | 40 |
| Thu 6/24 | 9:30 a.m. | ESPN/ESPN360.com | Slovakia vs. Italy | E | Johannesburg | 41 |
| | 9:30 a.m. | ESPN2/ESPN360.com | Paraguay vs. New Zealand | E | Polokwane | 42 |
| | 2 p.m. | ESPN/ESPN360.com | Denmark vs. Japan | F | Rustenburg | 43 |
| | 2 p.m. | ESPN2/ESPN360.com | Cameroon vs. Netherlands | F | Cape Town | 44 |
| Fri 6/25 | 9:30 a.m. | ESPN/ESPN360.com | Portugal vs. Brazil | G | Durban | 45 |
| | 9:30 a.m. | ESPN2/ESPN360.com | Ivory Coast vs. Korea DPR | G | Nelspruit | 46 |
| | 2 p.m. | ESPN/ESPN360.com | Chile vs. Spain | H | Pretoria | 47 |
| | 2 p.m. | ESPN2/ESPN360.com | Switzerland vs. Honduras | H | Bloemfontein | 48 |
2nd Stage – Round of 16
| | | | | | | |
| --- | --- | --- | --- | --- | --- | --- |
| Date | Time (ET) | Network | Matchup | | Site | Match # |
| Sat 6/26 | 9:30 a.m. | ESPN/ESPN360.com | 1st A vs. 2nd B | | Port Elizabeth | 49 |
| | 2 p.m. | ABC | 1st C vs. 2nd D | | Rustenburg | 50 |
| Sun 6/27 | 9:30 a.m. | ESPN/ESPN360.com | 1st D vs. 2nd C | | Bloemfontein | 51 |
| | 2 p.m. | ABC | 1st B vs. 2nd A | | Johannesburg | 52 |
| Mon 6/28 | 9:30 a.m. | ESPN/ESPN360.com | 1st E vs. 2nd F | | Durban | 53 |
| | 2 p.m. | ESPN/ESPN360.com | 1st G vs. 2nd H | | Johannesburg | 54 |
| Tue 6/29 | 9:30 a.m. | ESPN/ESPN360.com | 1st F vs. 2nd E | | Pretoria | 55 |
| | 2 p.m. | ESPN/ESPN360.com | 1st H vs. 2nd G | | Cape Town | 56 |
2nd Stage — Quarterfinals
| | | | | | | |
| --- | --- | --- | --- | --- | --- | --- |
| Date | Time (ET) | Network | Matchup | | Site | Match # |
| Fri 7/2 | 9:30 a.m. | ESPN/ESPN360.com | Winners 53 vs. 54 | A | Port Elizabeth | 57 |
| | 2 p.m. | ESPN/ESPN360.com | Winners 49 vs. 50 | B | Johannesburg | 58 |
| Sat 7/3 | 9:30 a.m. | ABC | Winners 52 vs. 51 | C | Cape Town | 59 |
| | 2 p.m. | ABC | Winners 55 vs. 56 | D | Johannesburg | 60 |
2nd Stage — Semifinals
| | | | | | | |
| --- | --- | --- | --- | --- | --- | --- |
| Date | Time (ET) | Network | Matchup | | Site | Match # |
| Tue 7/6 | 2 p.m. | ESPN/ESPN360.com | Winners A vs. C | | Cape Town | 61 |
| Wed 7/7 | 2 p.m. | ESPN/ESPN360.com | Winners B vs. D | | Durban | 62 |
Third Place Match
| | | | | | | |
| --- | --- | --- | --- | --- | --- | --- |
| Sat 7/10 | 2 p.m. | ABC | Losers – 61 vs. 62 | | Port Elizabeth | 63 |
2010 FIFA World Cup Title Match
| | | | | | | |
| --- | --- | --- | --- | --- | --- | --- |
| Sun 7/11 | 1:30 p.m. | ABC | Winners – 61 vs. 62 | | Johannesburg | 64 |