Franklin Knocks Out Liddell, UFC 115 Liddell vs Franklin (Video).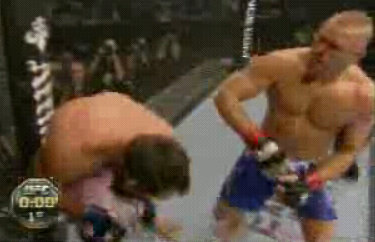 I've been digging around the web trying to a video of last nights Liddell vs Frankly UFC 115 fight and I finally found it.
Watch Liddell vs Franklin here
(as of 4pm EST today, this video was working and you can watch the entire fight)
Liddell got himself knocked out cold by Franklin in the first round of the UFC 115 fight and the hit seemed to come out of nowhere from Franklin. The strike by Franklin, as you can tell from the video, looked to be more a defensive swing as Liddell was starting to lay into him with a flurry of punches.
Earlier in the round, Liddell took Franklin down to the ground by jamming him into the cage. However, it appears that Liddell cut his eye pretty bad from the take down. It looked as though he may have cut his eye on the cage during the takedown.
UFC 115 didn't even take a full round to decide who the winner was going to be, and ultimately, Franklin came out the winner against Liddell by knocking Liddell out cold.